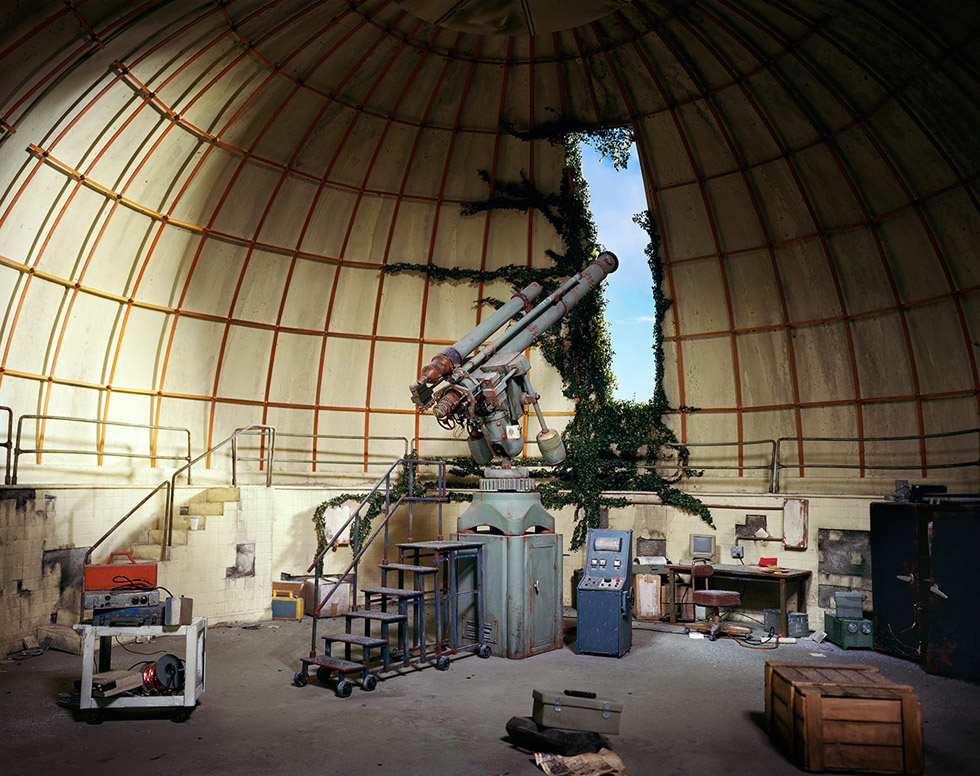 From photography-of-dioramas art, on post-apocalypse themes, by Lori Nix
(working in New York, with Web outreach at http://www.lorinix.net;
the artist and Toomas Karmo have no commercial connection, and do not know each other personally).
Reproduced herewith by Toomas Karmo from the artist's
http://clampart.com/wp-content/uploads/2015/02/Observatory_web.jpg,
with the artist's permission very kindly granted.
Is this the future of the David Dunlap Observatory and Park (DDO&P) -
already in significant part betrayed by our municipal politicians,
with around 32 of its 77 hectares sacrificed to crass commercial interests?
- If you want to check the municipal politicians' side of this story, start with http://www.richmondhill.ca,
following the "David Dunlap Observatory" link in the left-hand-margin hot-topics list.
You will find, among other things, a map showing
the projected lane, the projected stormwater sump, and the projected 14 streets.
And if you want to see the developer's side of this story, start with http://www.observatoryhill.ca.
The developer offers an e-mail newsletter. Consider signing up! As more and more people subscribe
(including, ahem, conservationists not all that interested in buying one of those 520-plus homes),
politicians and developers become increasingly mindful of public backlash.
We want to ensure that if this odious real-estate development venture goes ahead,
the movers and shakers experience it as a costly victory.
A hollow victory here, with appropriate, deadly accurate, publicity for guilty parties
- above all for the development-company directors, in the DeGasperis and Muzzo families -
will make other Ontario developers think twice when they contemplate attacking cultural heritage.
A friend once entertained me by imagining the Ancients having a political chat: "Nice victory, Pyrrhus."